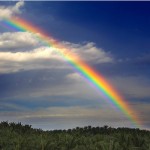 As January settles in, we have a chance to reset some intentions for the coming year. According to research, New Year's resolutions often only last a few hours, but what about the deeper ones which can really help you to refashion your life? A good place to start is at the end. These are the five greatest wishes of the dying …
I wish I'd had the courage to live a life true to myself, not the life others expected of me.
Ironically, we are often wrong in our perception of what others expect or want of us. Living our dreams, as long as they don't hurt anyone else, nourishes us and delights others.
I wish I hadn't worked so hard.
Overwork runs us down and deprives us of choices. Missing out on the simple things of life deprives us of the vitality and joy which can enable us to be of real use to others.
I wish I'd had the courage to express my feelings.

Resentment and bitterness are known to cause illness. Writing, painting, making music and the other countless ways of creativity lighten the spirit and make burdens easier to carry.
 I wish I had stayed in touch with my friends.
Appreciating our family and friends enriches us beyond measure. Seeing the real person behind the façade or story teaches you how to live in a state of love.
I wish that I had let myself be happier.

Dancing in the rain, throwing snowballs off mountains and running naked in the sun allows us to live life with curiosity, humility and humour so that we can achieve true freedom.
 So, for 2013, resolve to live yourself to the full and discover the magnificence that is life.
 Enjoy!
 Love Laurelle