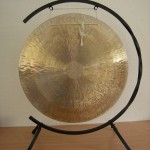 It has been said that the sacred playing of Gongs can produce the primordial and original "OM", the sound which birthed the world. Hearing such a sound, especially when an intention of healing has been set, can have an extraordinary effect on the listener.
The resulting meditative, calm state allows the ego to relinquish control of the mind so that negativity can be dissolved and the whole self reset harmoniously.
Because the Gong vibrates with the whole of itself, it brings the listener into a sympathetic resonance opening areas in the mind/body/spirit system which may have been closed or lain stagnant for many years. When resistance disappears, densely held problems and conditions can disappear and life transformed.
For some, gong Therapy is such a powerful experience that it is like "lying in front of a Jumbo Jet as it takes off!" For others, it is deeply peaceful, creating a bubble of silence around them that is profoundly moving. Gong Therapy can help deal with stuck issues like arthritic pain and lethargy. It can also help to release anger.
Some testimonials:
"I first came to Laurelle like a rabbit caught in the headlights. I felt disembodied, fractured, jangled and tearful. After just one session I was back in my body again…I trusted you when I felt very vulnerable."
L.S., Chalfont
"Having had a recurring flu virus over several winter months. I am now completely free from cold and chest symptoms. My energy levels are restored and my spirits uplifted."
C.T., Oxford
"I came to Laurelle confused with a sense of being lost to all paths in life. She has cleared the way. The gongs are truly powerful instruments. I feel calm, at peace and equal. Fantastic stuff. Her energy is magic."
JB, Cowley
Venue:      Little Milton, Oxfordshire
Cost: Initial two hour treatment, including full medical history – £95
One and a half hour subsequent treatment – £75
If you would like more information or to book a session please email me at laurelle@laurellerond.com or phone/text me on 07964 161527