The Witch's Necklace – published March 2012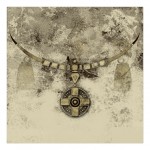 What would you do if you were overtaken by an irrational passion for a man the first time you met him? And how would you feel if you then started dreaming about him in a brutal story of deceit, lust and murder that took place four thousand years ago?
As Shoni tries to run away from her life, she finds herself following a strange red-headed woman who looks just like her. As a result, she digs up a strange necklace and starts to witness the Bronze Age woman's tragic story.
As the distinction between Shoni and the Bronze Age woman become increasingly blurred, Shoni has to rediscover her power of Free Will as she battles with an ancient vow that she should love the same man forever.
Meanwhile, the Bronze Age woman is becoming increasingly desperate. Will her curse finally choke everyone that betrayed her or will Shoni finally be able to unravel time so that she can, at last, choose her own future?
"A cracking good story that draws you under its spell.  The writing style was very descriptive, enabling me to visualise and inhabit their worlds, both contemporary and prehistoric. I wanted to know what was going to happen so much that I found it hard to put down at night. The story left me wanting more. I can't wait for the next instalment. I am a fan." Dee Nunan, Oxfordshire
"Masterly. The story grabs you and holds your attention till the end."Basja Cengija,Slovenia
"The story is gripping and I stayed up late into the night reading it. Laurelle is a talented writer with a real gift for storytelling." Stephanie Hale,Oxford
Available in electronic format at The Witch's Necklace
This is the first in The Dream Trilogy – Blackbird, Seal and Kingfisher. Soon to be out in paperback. Please contact me if you would like a copy.